Pressure is replacing half your brainpower.
We can help you bring your new employees up to speed—fast.
Swagelok Brainpower
Swagelok Training & Education
Learn more about the different training and education courses Swagelok Belgium offers.
Learn more
During The Covid-19 lockdown, SWAGELOK BELGIUM
Will remain open for business to support essential services
If you have any urgent requirements and enquiries, please contact us at
info@belgianfluidst.be or call +32 (0) 2 720 51 11.
You can also register on our website at www.swagelok.com to
Access information or request quotes on products ans services.
Swagelok Belgium is your local Sales and Service Center for Swagelok.
Belgian Fluid System Technologies is the Swagelok authorized sales and service centre for Belgium and the Grand Duchy of Luxembourg. We offer a wide variety of high quality Swagelok® products and a large variety of services, adjusted to the individual needs of our customers. We keep a large stock, supported by the Swagelok regional distribution centres and a world-class supply chain management.
Our team
Our sales engineers, customer service and executive personnel is highly educated to ensure you the necessary support on technical and business level. We are always ready to support you by giving technical information about your systems or by drawing them. We offer on site stock management, assistance by designing your assemblies and education. Our internal associates are at your disposal for technical help, quotations, orders and consignments. Our sales engineers will meet you with a large variety of services with an eye on the increased efficiency and productivity for your company.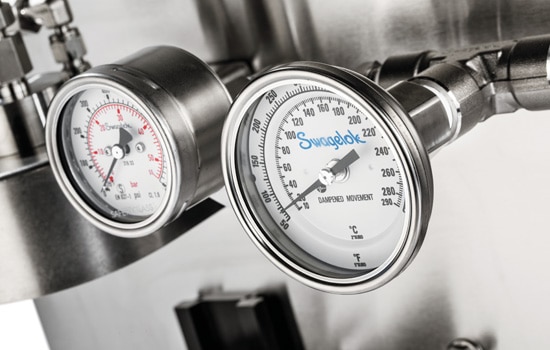 Components become applications and systems
Swagelok now offers two new, unique gauge faces with illumination options that improve visibility in low-light environments. The illuminated gauges are available in two options, option 1 requires a light source (ex. a flashlight) for the gauge face to be reflective. Option 2 gauge faces will remain visible in dark conditions after the light source is removed.
10 Sampling Mistakes Harming Your Operation
Swagelok Belgium - Quick Links
Your Local Swagelok Sales and Service Center
Swagelok Belgium
't Hofveld 6A 1-2
1702 Groot-Bijgaarden
T: 02/720 51 11